The crochet Primrose stitch has a wonderful texture. The shape of this stitch creates little clusters that resemble roses or flowers. 
This crochet stitch is actually easier than it looks, it uses only single crochet, chains and double crochet. And the interesting fact is, that the right side of the flowers is the wrong side of the double crochet stitches!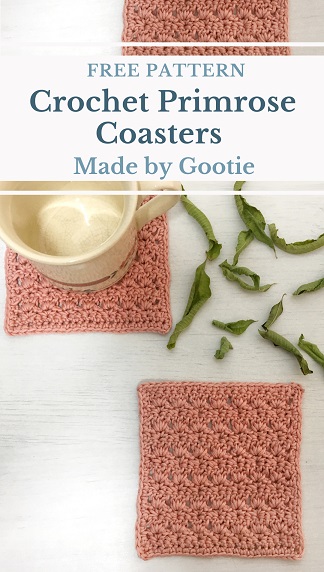 ** Some of the links in this post may include affiliate links. Making a purchase through one of these links pays me a small referral fee at no added cost to you. View our disclosure and privacy policy for more information.

What can you make with the Crochet Primrose stitch?
So in which projects can you use the beautiful crochet Primrose stitch you're asking?
This stitch is not lacey and doesn't have big holes, so it is perfect for most projects.
You can make a beautiful soft blanket with this stitch, make a lovely envelope purse.
I made elegant coasters with this stitch, and as a tutorial for this blog post, but you can also use a thick cotton yarn and make a hot pad or trivet.
So scroll down and let's learn how to crochet the Primrose stitch!
I have used the crochet Primrose stitch in my Rambling Roses Infinity Scarf.
The Rambling Roses Infinity Scarf is worked in the round using the Primrose stitch and hdc stitches, to create more interesting and unique look. This stitch combination makes a soft a cozy scarf, you can use wool for the colder winter days, or cotton yarn for the cool autumn.
You can find the ad-free PDF pattern of the Rambling Roses Infinity Scarf with the full photo-tutorial at one of my shops below: 

---

The Rambling Roses Infinity Scarf was part of the Autumn Exclusives event.
If you missed some of the patterns in this event, you can get all 40 premium patterns at an irresistible price!
Click HERE to grab the bundle!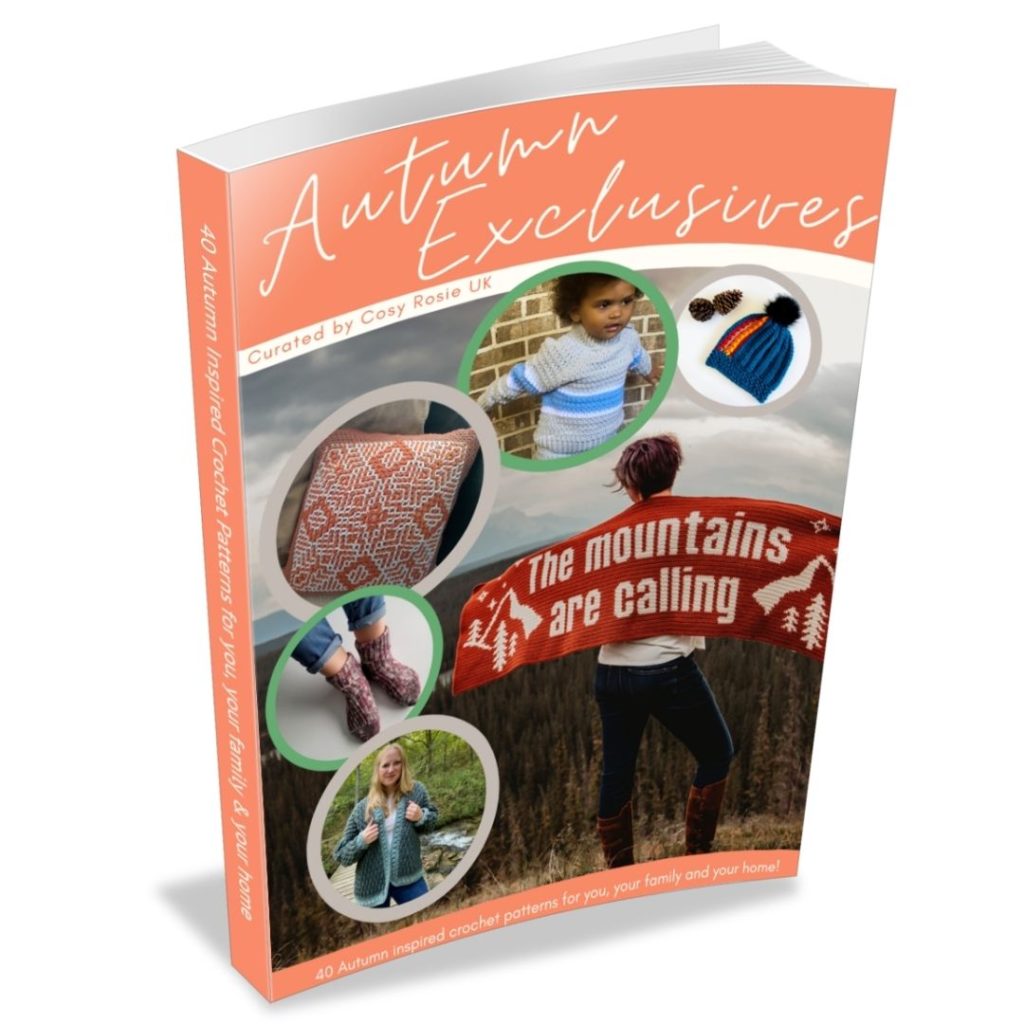 ---

What type of yarn should you use for the crochet Primrose stitch?
The best yarn for this crochet stitch would be a natural fiber such as cotton, or bamboo, which will have great stitch definition. But also a blend with acrylic or wool, can be a good fit.
Also the yarn weight has an important role here, I would use Sport, DK or Aran weight yarns for the best stitch definition in this pattern.
You can find wonderful yarn options HERE.


* Want to save this pattern for later? Go ahead and PIN it!


In this post, you'll learn how to crochet the Primrose Coasters.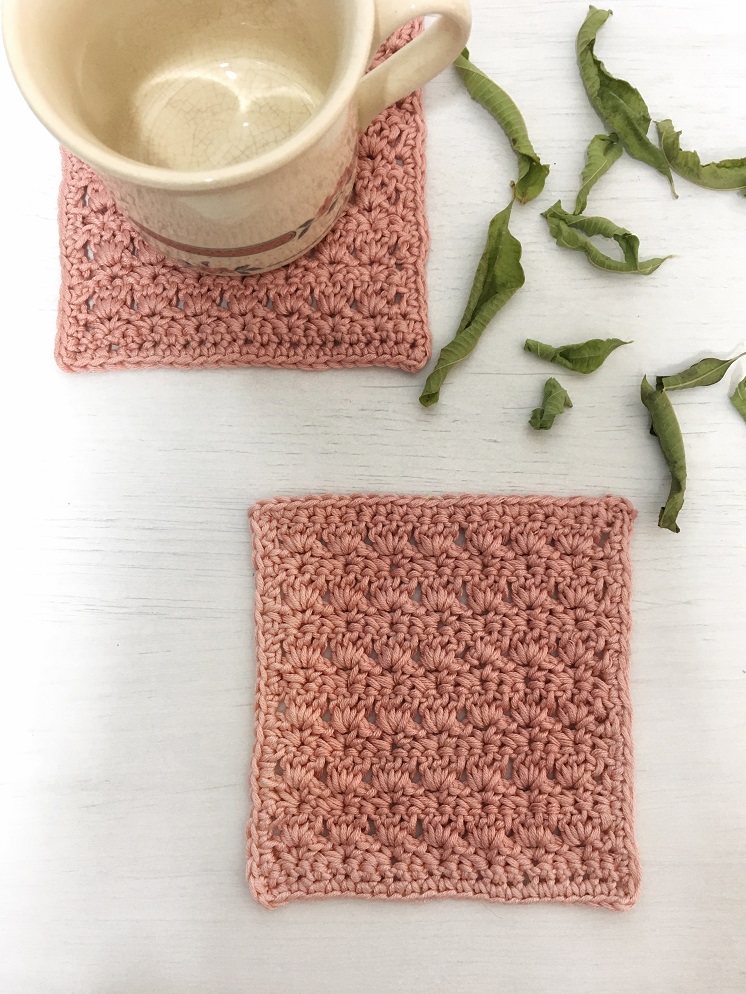 Skill level – easy

Materials
– 3 mm / D Crochet hook (I love the Furls and Clover Hooks) 
– For this tutorial, I used 100% cotton Sport weight yarn, you can find great yarn options HERE



* Want to save this post for later? Go ahead and PIN it!
Abbreviations (US)
ch – chain
RS – right side
WS – wrong side
ch – chain
st – stitch
sc – single crochet
dc – double crochet


Finished size – 4.5×4.5 in (11.5×11.5 cm)


Notes
– The right side of the square is the wrong side of the 3dc rows (the last row of the pattern is the right side).
– The pattern is a multiple of 6, you can change the width of the square as you'd like.
---

Looking for More Crochet Inspiration? Check out these other free patterns on the blog:
---

Crochet Primrose Stitch Coasters Pattern
ch24
Row 1 (WS): 1sc in 2nd ch from hook, 1sc in each ch across, turn. (23 sc)

Row 2 (RS): ch2, * skip 2 sts, [1sc, ch2, 1sc] in next sts; Repeat from * to last 2 sts, 1hdc in last st, turn.
** When you repeat this row, [1sc, ch2, 1sc] is worked into the 2nd dc of the flower.
Row 3 (WS): ch3, * 3dc in ch-2; Repeat from * across, 1dc in beginning ch-2, turn.
Left photo – right side of the stitch , Right photo – wrong side of the stitch.
Repeat rows 2-3, 5 more times.
Then work sc around (when the RS is facing you), work [1sc, ch, 1sc] in the corners.

Weave in the ends, soak and block.
---
Did you try this out? Let me know how it went and leave a comment below or tag me @madebygootie !

* Want to save this post for later? Go ahead and PIN it!