** Some of the links in this post may include affiliate links. Making a purchase through one of these links pays me a small referral fee at no added cost to you. These small fees add up and help me keep the blog running. View our disclosure and privacy policy for more information.
For this Valentine's day, we have a real treat for you!
To celebrate this wonderful day, Joy from Anvy's Granny has organized an awesome blog hop full of Valentine's Day crochet patterns!
Each day from 2-27 of January, a new pattern will be available as a free PDF. All you have to do, is visit Joy's blog hop each day to get the coupon code for the free PDF.
In the post below you'll find which pattern will be available for free on each day of the event.
To find out the relevant coupon code for each day, visit Joy's post:
So let's find out which pattern is available for each day of the event!
01/02 – Saturday – Crochet Mouse Family by Yarnhild
A cute mouse family that you can make for Valentine's Day. Mommy mouse Lisa, daddy mouse Malvin, and baby mouse Mila. These adorable mice are easy and quick to make and would make a great gift for someone you love.
03/01 – Monday – XOXO Cold Cup Cozy by Hooks, Books, & Wanderlust
If you need a last-minute Valentine's Day gift, these beauties work up so amazingly quick, and they are a great stash buster project! Slip a gift card to a favorite coffee or smoothie shop inside one and it is the perfect gift for all your favorite Galentines!
01/04 – Sunday – Bunny Rabbit Cupcake by Sweet Softies
The Bunny Rabbit Cupcake is a sweet treat that your Valentine will surely treasure! This fast and beginner-friendly amigurumi crochet project makes for a great gift.
05/01 – Tuesday – Heartwarming Heart Plush by CrochetWizzard's Adventures!
This quick and fun heart is a wonderful valentines gift for anyone on your list!
06/01 – Wednesday – Velvet Scarf by Crafting Each Day
Crochet a soft and luxurious scarf in velvet yarn as a special gift this Valentine's. The velvet yarn is super soft in this snuggly scarf.
01/07 – Thursday – The LOVE Jumbo Pillow Pattern by Crafting at the Poole
This super-soft pillow is very easy to create, and super rewarding! I mean, come on, who doesn't want a big cushy pillow like this on their couch?
It is truly a labor of LOVE! It takes many hours of constant crocheting to complete, but the result is well worth it!
01/08 – Friday – Fluffy Heart Buddy by Hooked by Kati
Need something you can snuggle this Valentine's Day? Or maybe a gift for someone special? This heart buddy is a hug in yarn form! He is soft, fluffy, and makes a great friend for whom to tell your secrets.
09/01 – Saturday – Bull in love by Anvi's Granny Handicrafts
Start a year of ox with the tiny buffalo in love. The little buffalo with a cute heart is a super easy and fast wrap-up crochet project and the perfect size for Valentine's gift-giving. Nothing better than a handmade gift with love for your loved one!
01/10 – Sunday – Unicorn by Meow Amigurumi
Sweet Unicorn with a special your own message is a perfect way to show your loved one how much you care. Your sweetie will love the handmade touch.
01/11 – Monday – Jojo the mailman bunny by Octopus Crochet
Don't know how to write love letters? Jojo the mailman bunny is so irresistible you can just write a love note and slip it in his mailbag, he'll do the work for you! Plus who said love notes are only for Valentine's day.
01/12 – Monday – Blooming Headband by Me n my hook
The Blooming Headband is a super quick and easy crochet make. Striped, solid, or ombre, the choices are endless
01/13 – Wednesday – Wrapped in Love Boot Cuffs by Jo's Crafty Hook
The Wrapped in Love Boot Cuffs are a quick and easy to crochet! There are SO many color coordinations to choose from. Make a pair for yourself and those you love!
01/14 – Thursday – Crochet Heart Pillow by Jen Hayes Creations
Show your love with a handmade heart. This small Crochet Heart Pillow has the option of adding a pocket, perfect for a small treat, note, or gift.
01/15 – Friday – Blossom Washcloth by Blue Star Crochet
Subtly textured washcloth that would make a lovely present alongside handmade soap and a fragrant candle for a perfect relaxing bath. The washcloth is a super quick and easy make.
01/16 – Saturday – Flower Face Scrubbies by me 🙂
These beautiful flower shaped face scrubbies, are the perfect gift for your loved ones. Make them with their favorite colors and take another small step towards a zero-waste life with a reusable product!
01/17 – Sunday – Hearts Headband by Crochet & Twists
The Chain of Hearts Headband is a lovely gift to make when you'd like something cute that works up quickly. The easy pattern can easily be adjusted for size so it's perfect for when you need to make headbands for each of your special Valentines.
01/18 – Monday – Wind Rose Heart by Emma Wilkinson Designs
Based on an old compass rose, the wind rose heart keeps anyone traveling afar, close to your heart.
01/19 – Tuesday – Ice Cap Fingerless Gloves and Headband by Straight Hooked
Now you can get both the Ice Cap Headband and Ice Cap Fingerless gloves together in one bundle!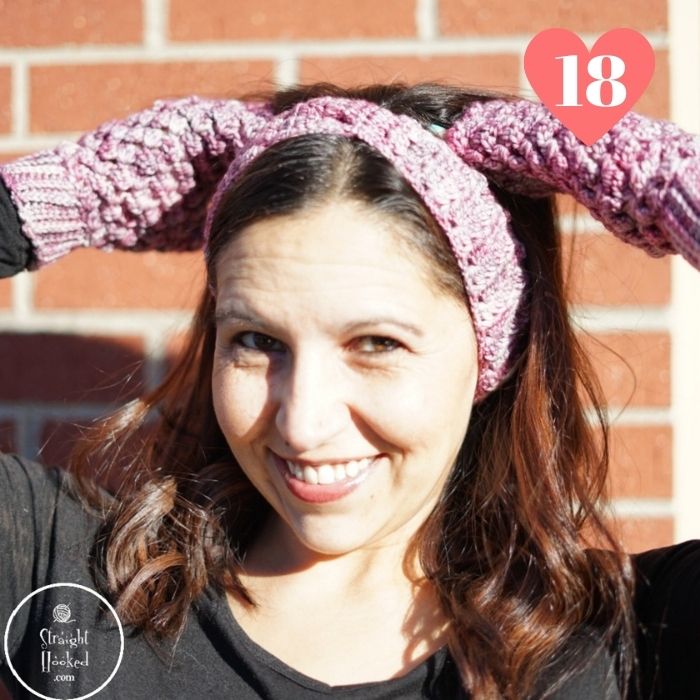 01/20 – Wednesday – Sweetheart Spike Scarf by Pine Tree Crochet
Wrap yourself in love this Valentine's Day with the Sweetheart Spike Scarf. The texture of the diagonal spike stitch pairs nicely with half double crochet in this easy 4 row repeat. Make one for yourself or that special someone in any color.
01/21 – Thursday – Heart Mason Jar Cozy by Carroway Crochet
Make this cute mason jar cozy and add a heart applique. Hearts symbolize love. Make one of these cozies for a Valentine's Day project or gift, but it also works for the whole year round. Love is all you need.
01/22 – Friday – Pride Flag Hearts Amigurumi Pattern by Wayward Pineapple Creations
Show your Pride colours with these adorable stuffed crochet Pride flag hearts! Perfect to celebrate Pride, or to give to your loved one on Valentine's Day.
01/23 – Saturday – Mini Superhero Dolls by Chai Coffee Crochet
Let someone know that you think they're SUPER with these adorable mini superhero dolls! These little dolls are only 4.5 inches in height so they're easy, work up fast, and make for an excellent stash-busting project. You can personalise them by embroidering the initial of that special someone on the front, for an extra special Valentine's Day gift.
01/24 – Sunday – Cross My Heart Boot Cuff by Three Fates Creations
The Cross My Heart Boot Cuffs make a quick and festive project for Valentine's Day. They are stitched with a simple stitch pattern and a crossed stitch heart motif.
01/25 – Monday – Show the Love Wall Hanging by Cosy Rosie UK
Show the Love this Valentines Day with this beginner friendly crochet wall hanging crochet pattern which features a cute Valentine Heart. You'll just love this easy crochet pattern with it's step by step crochet tutorial which will show you how to add a fringe, learn how to crochet the Puff Stitch and how to follow a colour chart too!
01/26 – Tuesday – Conversation Heart Pillows by Made with a Twist
Delight your Valentine with these adorable Conversation Hearts Pillows and Gift Card Holders. Fill the pocket with candy, treats, or good ole dolla-dolla bills. The work up quickly with your favorite, stash-busting, worsted weight yarn.
01/27 – Wednesday – I love you so much – pillow cover by KnitterKnotter
Shower your love this Valentine's Day with this easy pillow cover. It is made up of 'x' and 'o' motifs that are joined together to make a heart pattern. I have made it with shades of pink but you could make it with any combination of colors! This is a great stash buster too!
Let's be friends on social media! Follow me on Facebook, Instagram and Pinterest!